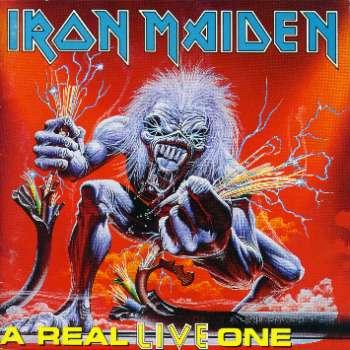 Be Quick Or Be Dead
From Here To Eternity
Can I Play With Madness
Wasting Love
Tailgunner
The Evil That Men Do
Afraid To Shoot Strangers
Bring Your Daughter... To The Slaughter
Heaven Can Wait
The Clairvoyant
Fear Of The Dark

Though Live After Death (The World Slavery Tour) remains the strongest documentation of Iron Maiden on stage, A Real Live One isn't a bad listen at all. Maiden was a band that always believed in giving its audience a monster of a show, and on the whole, the CD (recorded everywhere from France and Italy to Denmark and Finland) does a good job capturing the type of excitement these imaginative gothic headbangers generated on stage. The idea behind the album is to pick up where Live After Death left off and emphasize material recorded after 1985, and the Brits do exactly that with inspired versions of such favorites as "From Here to Eternity," "The Evil That Men Do," "Bring Your Daughter...To the Slaughter" and "The Clairvoyant." One could nitpick about various omissions, but the bottom line is that A Real Live One isn't an album Maiden devotees will want to pass up.

-Alex Henderson (article obtained from AMG)